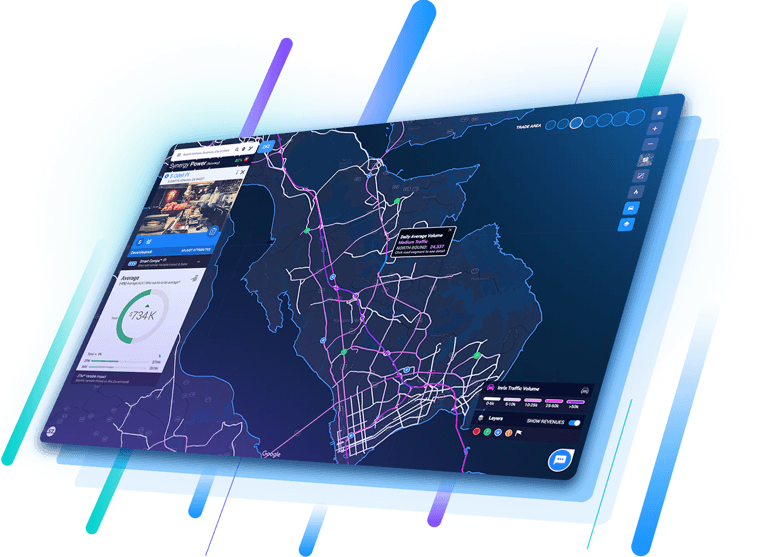 Make Better
location-based

decisions with

advanced A.I.
What are you trying to accomplish?
Synergy

Power Score
Transparent Predictive Modeling
Need a confidence boost? Consider the Synergy Power Score your "confidence meter" — which can show the health of your predictive model based on each specific, separate project, using cross-validation to test the accuracy of all of your locations. It's easy to present results to your team, as we highlight, in quadrant format, which locations you should relocate, study, optimize or keep growing.
Learn More
Watch Webinar
Zeustimate™ Sales Forecasting
Real-time Predictive Intelligence
Sales forecasting made easy. With the drop of a pin, the Zeustimate provides real-time sales projections that aggregate in seconds by location. Thanks to the power of AI and machine learning, we're able to calculate projections that fast. Not only that, but our platform will also forecast sales based on a revenue breakdown that you determine. As a result, you can understand your sales potential across the entire U.S.
Learn More
Site Sonar

White Space Analysis
Thousands of projections in minutes
This is our White Space Analysis feature, internally referred to as "Gods eye." Users can get thousands of sales projections for real locations across the US in minutes. You can drill down to a regional level, and even a local level, seeing the colors adjust live to represent revenue potential. This is based off real points of interest, that serve as proxy locations based off your custom trained model.
Customer

Segmentation
Discover social network segments with precision
The Customer Segmentation Dashboard leverages two very unique data sets: UberMedia's Mobile Geofencing path to purchase data and Spatial.ai's Geosocial data. Real estate and marketing teams can leverage this data to identify behavioral segments that make up their customer base for existing site or site of interest.
Mobile Data

Dashboard
Manage mobile sites with ease
Use our all-in-one mobile data dashboard to redeem, manage, and refresh mobile data on any, or all, of your locations. With access to data from the last 365 days (from the time you redeem), users can visualize consumers' path to purchase, identify customer segments, and study sales impact across markets with ease.
Sandbox

Portfolio Optimization
Remodel. Relocate. Close.
Prioritize a remodel, relocation, or closure with confidence. The SiteZeus Sandbox™ enables you to test theories and make discoveries to validate your optimization plans with ease. Look at remodeling implications on a specific site, a subset of sites, or all of you locations. Quickly understand the financial impact, positive or negative, certain site adjustments have on your locations. Explore options, then deliberate. Our scientific approach brings clarity to the picture, making tough decisions easier.
Learn More
Watch Webinar
Polygons
Evaluate Territory Potential
Want to discover the true potential of current and future markets? Use this simple tool to quickly visualize consumer demographics and competitor data within geographic boundaries. In addition to your existing polygons, choose from CBSA, Nielsen DMAs, US counties, US regions, US states, and US Zip3 to evaluate, and report on, specific territories.
Franchise

Roles & Permissions
Maximize Your Franchise Potential
The new Franchise Portal is designed to streamline market planning across the organization. Powered by AI, this custom solution delivers accurate analytics, fast and with ease, creating maximum efficiency between the Franchisor and the Franchisee. Franchisors can deploy one universal predictive model across the entire franchise community, with custom user roles and territory permissions.
Learn More
Watch Webinar
Variable

Importance & Impact
Understand Which Variables Drive Your Model
With Variable Importance you will have greater insight into your predictive model. Variable Importance uses a relative percentage to show which variables are used across all possible projections and the frequency of use. Variable Impact on the other hand gives you even deeper insight into your models, by showing the impact of attributes used in the Zeustimate, for each site. You'll get the starting projection, and then monetary amounts for each variable used to generate the Zeustimate.
Watch Webinar
Smart

Comps
Compare subject sites to existing locations
Building upon the addition of Variable Importance and Variable Impact, we now introduce SiteZeus Smart Comps, which find existing locations that follow a similar analytical path as the Zeustimate you are viewing. Compare subject sites to existing locations like never before.
Watch Webinar
Revenue

Heat Maps
Unlock Your Local & National Potential
Hold your own national feasibility study with our dynamic heat maps. Our system blankets the screen with sales projections to show you where your brand would perform best, with the help of a heat map legend. This takes your sales revenue, custom site characteristics, and demographics into account while crunching the data. Our revenue heat map presents sales potential relative to the trade area you are looking at. Based off your model, it then determines where your concept would best perform.
Demographic

Heat Maps
Pinpoint Your Target Demographics
Want to understand what variables drive your most successful locations, so you can duplicate their success? Drill deep into demographic data with our Demographic Heat Maps. By heat mapping this data, you can easily determine where the demographics are that you want to target. Get granular and zoom into your trade area, or look across the board, on a national level, to identify potential markets your concept could tap into. We currently tap into age, education, ethnicity, homes, income, occupation, points of interest, population, and traffic data.
Site
Attributes
Evaluate Custom Site Characteristics
Site attributes, or variables that a brand or concept collects across all locations, can add a great deal of value to your predictive model, thanks to the objective nature of these data points, also known as "custom site characteristics." You can refine your Zeustimate by adjusting the Site Attributes to the location-specific values. For example, you can adjust square footage, access, visibility, signage, management and more.
Competitive
Sales Comps
Visualize Competition And Co-tenants
Now you can also add revenues to your layered locations. If you know a location's revenue you can add that value to the location layer. Restaurant Trends data, for example, fits perfectly in this new feature. Revenues are visible on the map when you hover over a "layer" pin and can be turned on to pop-up on your pins through the "layer" button on the map.
Watch Webinar
SitePak

Wizard
Finally, Reporting Made Easy
Our SitePak™ Wizard hands you the reins to lightning-fast, unlimited, custom reporting. There are five customizable templates that you can leverage. Crack down on demographics with our simply reporting – or run a Quick Demos report, for a screenshot of a subject site. You can also compare a subject location to a subset of your locations to better understand your projections. Dive into Synergy reporting to better understand what variables positively or negatively impact your business, to shed light on new potential locations. We take the heavy lifting out of building site packs.
Synergy

Grid
Make Discoveries, And Test Theories
A location analytics data dashboard that delivers. Our best-in-class data visualization displays thousands of data points in an easy-to-digest, highly-reportable way. Want to know which data points have a positive or negative correlation to location revenues? No problem. Build out your site selection criteria, create custom reports, filter impactful variables by trade area size. It's easy.