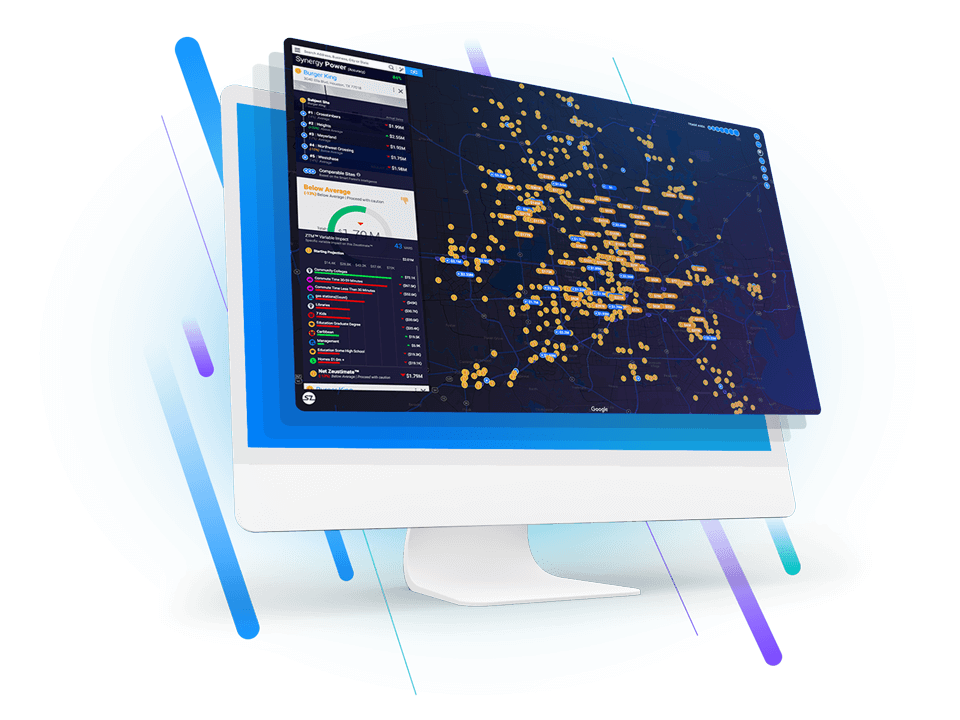 Predictive Intelligence
For Growing
Multi-Unit Brands
SiteZeus Synergy™ puts you in complete control so you can confidently select the right locations to grow your business. Easy-to-interpret, real-time results, driven by the latest in machine learning. No consultant required.
Schedule a Demo
Synergy solves site selection
Take Your
Location Strategy

To The Next Level

Looking to increase your AUV across your portfolio of stores? Say goodbye to sites that don't perform. SiteZeus Synergy provides multi-unit brands with custom, location-based predictive modeling. Whether you are a business analyst, development manager or top executive, Synergy gives every organizational role the ability to get straightforward, real-time answers to complex site challenges. Any brand can benefit from Synergy's speed, control, transparency and flexibility, but we particularly cater to the following verticals:
Step up your game with Synergy
Six Reasons You'll Love Your Subscription
Synergy is the only A.I. driven site selection tool in the market that will take you to the next level. You'll be more accurate, drive more ROI, increase average unit volume, and save time. Plus: Access from anywhere, 24/7, with answers in real time.
Transparency
No more wondering "why" or "how." Synergy is transparent to the core, providing a powerful combination of data visualization and interpretability like no other. Its tools quickly explain your custom predictive model's results, making it easy to understand and take confident action.
User-Driven
With Synergy, you have the power. Our users drive their predictive models, so you can ditch static variables and stop waiting around for a consultant. You can update whenever you want, test an unlimited number of scenarios and enjoy unlimited searches and reports.
Cost-Effective
Don't bother with hefty consulting fees. Synergy is SaaS, which means affordable monthly payments. You also have the flexibility to turn data bundles on and off. And, of course, improved site selection accuracy will make your bottom line happy over the long haul.
Time Saver
No more waiting and wondering when you'll get that all-important report. Speed is key to site selection in a competitive space. With Synergy, sales forecasting happens in seconds, while your custom predictive model is constantly updated — thanks to the rapid-fire response of A.I. and machine learning.
Accurate
The Synergy Power Gauge gives you unprecedented control and accuracy in site selection. The more data you add — whether your own internal data or that of our data partners — the healthier, more robust, and therefore more accurate the model with be. Our pioneering A.I. and machine learning-driven tools use thousands of data points to make human decisions easier.
Unbiased
Gut feelings are no longer enough when it comes to selecting the right site. Go beyond intuition with Synergy as an unbiased third party, running through a variety of scenarios and crunching lots of data across many variables. The result? No more "dog" units, just locations that boost your bottom line.
What's in your Synergy Toolkit
Everything You Need To Grow And Succeed
You don't have to be a data scientist to solve complex location intelligence challenges. With Synergy, you get a toolkit filled with advanced yet accessible solutions for any role at your organization. Tools that are powerful yet easy to interpret. Tools that use hundreds of variables yet offer best-in-class data visualization. Tools that help solve your unique needs in your industry, whether you are looking to expand in your existing market or want to grow outside of your market, or even make decisions about optimizing your existing locations. Make Synergy an essential part of your organization's strategy for site selection success.
Explore the Features
"SiteZeus is one of the partners I've been particularly excited to work with right now. They offer us a very dynamic, data-driven way to make fair and objective decisions about new locations. I think their approach is the way of the future."

Russ Holland | VP of Real Estate

"Our focus is on a strategic development strategy to make sure Subway franchisees have the greatest opportunities to successfully grow their businesses. With the addition of the SiteZeus platform, we will be able to better evaluate how individual locations will perform and affect the trade area while providing analytical tools for overall market realignment."

Don Fertman | Chief Development Officer

"SiteZeus gives you a sales projection with refreshing granularity. You know exactly how a location will generate revenue and what will drive location performance. This makes our market planning and growth strategy more deliberate, data-driven, and effective."

Stephanie Grant | Real Estate Portfolio Manager

"The SiteZeus platform gives our firm an important competitive advantage. It allows our team and our restaurant partners to identify growth opportunities incredibly fast. We can also lean on the data to support good, quantifiable decisions"

Jeff DeVolder | Principal

"The SiteZeus platform helps us to very quickly understand not only where to locate our stores, but why those locations are the best suited. The reasoning behind those location decisions is an important key to success in today's data-driven business environment"

Einar Gustafsson | CEO, Gong Cha America/Europe

"This model allows us to determine with a higher level of confidence what key attributes drive sales and bottom-line revenue. SiteZeus provides us with information that assists in making enhanced decisions when it comes to new site locations, relocations and rebuilds of existing restaurants, and cannibalization modeling."

Kevin Bennett | Chief Financial Officer

"Our brand has already achieved a sizable footprint with over 300 locations. As we move to the next phase of growth for our company, SiteZeus will arm us with the tools to make better, data-driven decisions with timely accuracy"

Richard Leveille | Chief Development Officer

"By helping us prevent the opening of less favorable sites, SiteZeus will increase our chances to compound growth. Thanks to this proactive technology, we can offer our clients confident growth."

Cass Tenney | Savory's Director of Real Estate Development

"SiteZeus allows us to make more informed sales projections. They have a built-in confidence meter that back tests itself to provide a percentage of accuracy that we can rely on as we expand across the nation."

Alex Regar | Business Intelligence Analyst

"Our partnership with SiteZeus will help us serve the best pizza in the world to a lot more people. SiteZeus' platform will fuel our growth by helping us scout sites, identify markets, and learn about the communities we aim to serve."

Sasha Milosavljevich | Chief Real Estate Officer

"Before SiteZeus, pin studies required us to schedule on-site intercepts and wait for results, often weeks or even months per site. Now, getting sales impact studies takes minutes, at most; the difference in speed is night and day."

Jim Avery | Director of Development